In the early 1970s, Moscow mathematician Yu. Pukhnachov, Arkhangelsk musician V. Lokhansky, and musicologists L. Blagoveschenskaya and A. Yareshko of Novosibirsk and Saratov respectively, each independently began to study Russia's campanological culture.
Further reading: "A Tree with Deep Roots: The Bells and Chimes of Russia", by Vladimir P. Korzh, Director of AKIR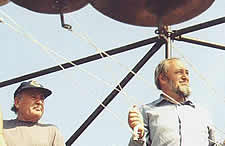 Mr. Vladimir P. Korzh, AKIR's Director (left), with Dr. Alexander Yareshko, President, on the zvonnitsa at a recent exhibition of bells sponsored by AKIR.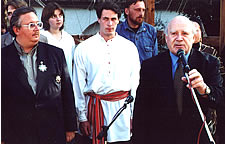 Mr. Vladimir P. Korzh, Director of AKIR, conferring prizes on the lead bell ringers at the recent festival. The man on the left is the Patriarchal Zvonar, Mr. Igor Konovalov.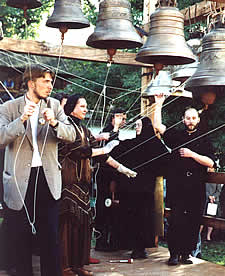 The top bell-ringers of Russia making beautiful music together.
By 1989, their efforts had led to the creation of the Campanological Arts Association of Russia (the Assotsiatsiya Kolokol'nogo Iskusstva Rossii, or "AKIR"), which since then has brought over 150 architects, metallurgists, bell-makers, acousticians, campanologists, professors, historians, ethnographers, zvonars (bell-ringers), and other professionals together for the resurrection and advancement of Russia's millennial bell culture.
The Association is now comprised of over 150 scientists, musicologists, artists, bell-ringers, and foundrymen from all over Russia– including the Patriarchal Zvonar himself, as well as the principals of America's Blagovest Bells.
AKIR has emerged with patriarchal and governmental endorsement as Russia's primary and oldest bell testing, certification, research, and training organization— in fact, if you think about it, the foremost in the whole Orthodox world!
AKIR engages in the following activities:
publishes scientific and cultural works on campanology;
identifies and conserves ancient bells of cultural value,
arranges the casting and installation of new bells;
organizes schools for the training of bell-ringers, and
produces exhibitions of bells, concerts of bell music, and campanological festivals.
It links traditional Russian professionals and bell ringers with traditional campanological associations in other countries as well. AKIR is working hard to restore Russia's glorious bell-music in thousands of churches, actively seeking the return of stolen bells to their rightful homes and making up for the damage done during the Soviet Era.
Blagovest Bells is proud to be AKIR's North American Representative, and we offer only those award-winning bells which have AKIR's endorsement and recommendation. But that's not all!
We offer, and strongly recommend as part of every large proposal, AKIR's direct selection, testing, and certification of your bells, as well as architectural consultation, and training of your ringers on your powerful, new, and unique musical instrument.
AKIR's certification will provide the certainty that your specific bells have been tested for hidden flaws or defects and approved by Russia's main bell testing and certification association. This seal of approval will add to the prestige and "presence" of your bells in America's developing bell-ringing community.
We can facilitate communication with AKIR during your architectural design process, so that your architects develop plans that specifically envision the unique styles and needs of Russian bell ringing. When your bells arrive and you're ready to install them, we can bring an AKIR specialist to you, to help hang your bells, set up your ringer's podium with its pedals and harnesses, and train your ringers in the art and traditions of Russian-style ringing.
Architectural consultation, to be conducted from Russia, will include determination of sizes and tones, assistance with drawings and plans for your tower, for the installation and configuration of your bells, and the design of your ringers' podium, footpedals, and harnesses. For bell selection, AKIR will send a metallurgist, acoustician, patriarchal zvonar, and assistant to physically select, test, and certify your specific bells and to ensure the very best combination possible.
In addition, AKIR can send an expert from Russia to help with the actual installation and setup. Or, alternatively, Blagovest Bells can arrange for a visit from an American teacher who will get you started.
Even if you are ordering only a small set, you can rest assured that the bells you're getting are recommended by AKIR– and Blagovest will be happy to provide advice and answer any questions you might have about your bell-ringing plans. And we can rely on AKIR for any answers we don't have!
Quality, Tradition, Authenticity: Only Blagovest Bells offers you Russia's top award-winning bells– the finest Russia has ever made, at the best possible price– plus the full spectrum of traditional campanological support! Call us today!
AKIR's website is http://users.podolsk.ru/akir/.